V Yosie von der Luisenstraße, KKL 1-a (life), SchH 1

Sire: VA1 Sieger: Ursus von Batu, SchH3, a-normal
Dam: V Caty vom Farbenspiel, SchH2, a-normal
sister of VA1 Connie vom Farbenspiel
VA8 Fello vom Farbenspiel, SchH3 (repeat breeding of "C" litter Farbenspiel)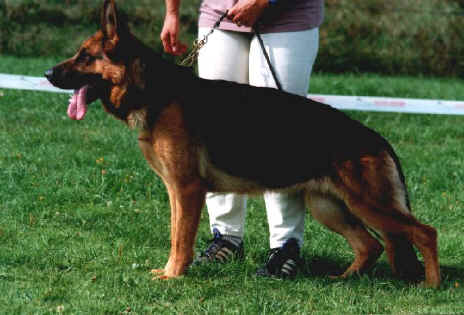 (Click on Picture for Pedigree)
She was my grandma dog and raised all the pups. She helped to raise Rudi!!! She was the most gentle, loving lady!
Sadly we lost her March 31, 2012.....her body just wasn't as strong as her spirit!!!
2001 North American Sieger Show critique by Koermeister Herr Rudiger Mai:
Large, powerful, expressive, good proportion, good topline, firm back, and good placement of croup. Upper arm could be more slanted. Very good rear angulation. Good front reach. Rear drive could be more pronounced. Pronounced - Outs
Pedigree Data Base Pedigree



[Back to Our Dogs Menu]

Home Page

Table of Contents Page

All about Us

Our Dogs!

Adults for sale or Placement

Action Videos


Litter Announcements

Puppy Power


Thinking About Buying A Puppy?

In Remembrance-Gone But Never Forgotten

Schutzhund Information


Famous dogs of the Past and Present

Favorite Places

Banner Links

Awards Page